The top non-English language film on Netflix last week was The Conference—a Swedish horror movie that's no doubt drawing viewers in with its thumbnail of a ghoulishly grinning, dirt-stained mask. Those who click on it will be rewarded with a blend of corporate satire and campground slasher, filled with some of the most creative gore in recent memory.
Netflix Passwords, ChatGPT Can't Detect AI, and No More CoTweets | Editor Picks
In the nondescript Swedish countryside, a group of municipal workers gather for a mandatory team-building retreat ahead of the groundbreaking for a shopping mall they helped develop, but nobody in the local community supported. Among their numbers are Lina (Katia Winter), recently back on the job after extreme stress made medical leave necessary, and her office nemesis, the smarmy Jonas (Adam Lundgren)—but The Conference is an ensemble film, and it manages to infuse each of its characters with distinctive, appealing and/or comedically awful characteristics. The group doesn't really see eye to eye on the project they're ostensibly working on together, and Lina's starting to have some doubts that the whole mall deal, engineered mostly by Jonas, is even on the level.
But to the wilderness they go, staying at a no-frills resort that's one of few businesses in the area in support of the mall's arrival. That fact becomes important when a ruthless, well-armed killer with a serious vendetta appears and starts picking off the resort's staff before moving on to the visiting office workers.
While the story structure of The Conference is entirely familiar, with elements of Agatha Christie and Friday the 13th baked into its escalating body count, the underlying themes about corruption and (metaphorical) back-stabbing, as well as the well-written characters, elevate it considerably. But the main reason to Netflix and chill with this one, especially for horror fans, is to appreciate the applause-worthy array of weapons—kitchen tools, garden tools, power tools, a paper cutter, a chainsaw, an outboard motor, pointy sticks, metal animal traps, a ceremonial golden shovel, and more—deployed in its many brutal fight scenes. It's all stuff you could conceivably find at a campground resort, and it's all put to imaginative use in the most splat-tastic ways imaginable.
Props to director Patrik Eklund and writer Thomas Moldestad, who more than earn the right to transform "teamwork makes the dream work"—a glib slogan that sets the tone for the retreat—into a metaphor about battling a masked maniac alongside your co-workers.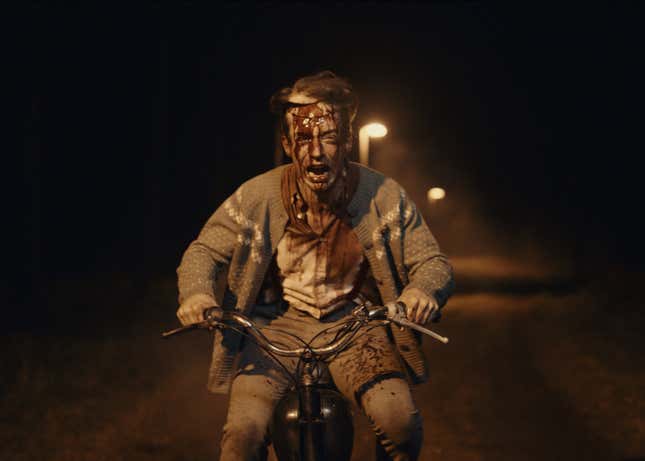 The Conference is now streaming on Netflix.
---
Want more io9 news? Check out when to expect the latest Marvel, Star Wars, and Star Trek releases, what's next for the DC Universe on film and TV, and everything you need to know about the future of Doctor Who.