Quantum Leap returns to NBC this week to catch up with Dr. Ben Song (Raymond Lee), a time-traveler who has no control over where or when he's going to end up next, but who fortunately has the help of a Los Angeles-based team of badasses and geniuses helping him through each mission.
Alan Cumming on playing King James in Doctor Who
Season one was an entertaining reboot of the much-loved early-'90s series starring Scott Bakula as Dr. Sam Beckett; week to week, it offers breezy sci-fi with action and humor that doesn't require tons of brain-bending to keep up with; Lee leads an appealing cast that also includes Ernie Hudson (Ghostbusters, Oz, The Crow) and Mason Alexander Park (The Sandman), plus often-recognizable guest stars. Ahead of season two's premiere, io9 spoke with Quantum Leap executive producer and directing producer Chris Grismer.
---
Cheryl Eddy, io9: In season one we had Ben as the leaper going on his time-travel adventures, but also a parallel storyline with the team back at headquarters. With that big mystery resolved in season one, will we be seeing less of the home team moving forward?
Chris Grismer: I think you see as much of those characters but in a different way this season. As you saw last season, some of them were involved in the leaps, especially in the last episode, and I think there'll be more of that this season. This season offers us a chance to spend a little more time in the leaps, getting through the emotion of the leaps and being with Ben. But the other characters do come along for that ride.
io9: Why do you think it's important to keep those characters involved, beyond setting this new take on Quantum Leap apart from the original?
Grismer: Just story-wise, I think he needs their help, obviously. And I find them to be really compelling characters in their own right. What brought them to Quantum Leap, why they're there, why they continue to work there, and what they have to offer in each leap. I find it really interesting, and I think it works really well, especially in season two.
io9: Will there be a season-long mystery for those characters, like we saw in season one?
Grismer: There is a season-long mystery that is very exciting and very interesting. That's, I think, introduced in episode three.
io9: In season one we had Janice–the daughter of Dean Stockwell's character Al from the original series–but her arc was resolved in the finale. We also had Magic's personal ties to Sam Beckett's past adventures. Will we see any more links to the original series, even if you can't comment specifically on what they might be?
Grismer: There are definitely mentions and callbacks to the original series, and there's some very interesting similarities that I don't think were explored as much in the first season, that do come to light in the second season. I think viewers will have to tune in to find out [what they are], because [I can't think of] how to word it without giving it away.
io9: Obviously the writers come up with the various places Ben visits, but as a producer do you have any say or influence on the settings?
Grismer: Definitely, I do get involved in figuring out how we're going to shoot it. Sometimes the idea comes first from [the writers] and then the "can we shoot it?" comes to me, and we figure out whether we can shoot it, and whether I think we can shoot it. Then the idea goes forward, or it transforms into something that is more easily shootable for us. It's been a really great partnership going back and forth.
io9: Where is the show actually filmed?
Grismer: We're based at Universal, so we shoot the hell out of the backlot there, which offers many more looks than I ever imagined it would. And I'm sure we'll continue to find more. And then we shoot at various places, [including] Disney Ranch. I think it's in the trailer, so I can say we went as far as Egypt in the new season. So I'm hoping that sort of exploration continues as we go forward.
io9: That was actually filmed in Egypt? Wow, what was that experience like?
Grismer: It was chaotic, but very, very fun. And everyone brought their A-game—the cast and crew that we brought with us, everyone really enjoyed it, and it was a very new experience for everyone. But we got to see things that you would normally not even get to see as a tourist. So it was very exciting.
io9: What are some of the challenges you've faced, in terms of location shooting?
Grismer: I'll spoil it if I give away too much, but there's been some the challenges that happened just based on the weather, you know, that's changed so much in LA recently. I think we had an episode that got snowed out and then it got rained out twice. The changing weather in Los Angeles is has become a challenge for us.
io9: You're going to have to send Ben back in time to work on climate change.
Grismer: That's right. Exactly. That would be amazing.
io9: You're also a director for the show. As a director, what's the process like in deciding which tone to set for each episode, depending on which character Ben will embody?
Grismer: I work closely with the actors and the writers. We do a tone meeting where we talk about what the intention is of each scene and where the actors are and where they're going. And then when we're actually shooting it, I remind [Raymond Lee] where he just was and where he's supposed to be going—it's pretty laid out in the dialogue as to whether it's going to be comedic or whether it's going to be touching. As an actor, Raymond is just so brilliant at balancing both the drama and the comedy, and the grief even. He's really phenomenal to work with. You work closely with the actors. You nudge them. You celebrate when they've nailed it. It's a pretty symbiotic relationship.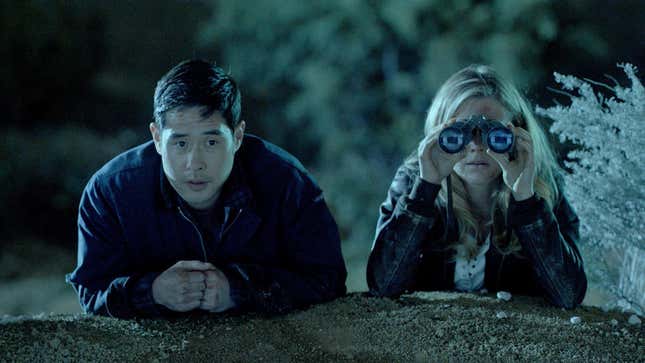 io9: Is season two completed? Has the strike affected the production?
Grismer: We've completed up until the midseason finale.
io9: So it'll be like last season, where there was a hiatus break in the middle.
Grismer: Yes. Hopefully not too long.
io9: Were you a fan of the original Quantum Leap series? And if so, do you have a favorite episode from that?
Grismer: It wasn't as big of a show for me, but I was a fan of it. I liked the demon episode ["The Boogieman"]. I liked any time that it got really, really out there and it left you wondering—are demons real? Are angels real? Are aliens real? I love those episodes.
io9: The Halloween episode. The one with the Stephen King references!
Grismer: Yeah. And I felt really, really, really lucky that I got to direct the Halloween episode ["O Ye of Little Faith"] in the first season.
io9: Oh, nice! That was one of my favorites. Why do you think the show has had such an appeal that it's been able to come back and have this revival and find success again?
Grismer: I think that it's really time right now for people, especially with the world so divided right now, for people to watch somebody learning to walk in someone else's shoes and learn from their experience—and understand that everybody struggles, and it's nice to go and figure out what that struggle is before you judge them. So I think that the show's touched a nerve that way.
---
Season two of Quantum Leap premieres October 4 at 8 p.m. ET on NBC.
---
Want more io9 news? Check out when to expect the latest Marvel, Star Wars, and Star Trek releases, what's next for the DC Universe on film and TV, and everything you need to know about the future of Doctor Who.