The summer movie season is often one of the most stable periods of the year: studios show off their big tentpoles (usually about a superhero, or something close to one) whose primary goal is to be crowd pleasers and make a lot of money. Since the formula's been around for about 20 years now, you'd reasonably assume that it wouldn't ever really change, but 2023's summer slate has led to some interesting surprises.
Doctor Strange 2's Sam Raimi on America Chavez
At time of writing, Warner Bros.' Barbie and Universal's Oppenheimer are both enjoying solid second week runs at the box office. According to Variety, the former is aiming at a $750 million worldwide take after this weekend, and is currently on track to be the third-biggest release of the year. (It'll also definitely go well over $1 billion when its theatrical run is all said and done.) Meanwhile, Oppenheimer is aiming for $400 million globally and now has the biggest second weekend for any R-rated movie ever. And it's very likely that both movies are looking at various nominations come awards season…y'know, if there actually gets to be an awards season this year.
Obviously, the success for both films can be partly owed to the Barbenheimer trend on social media, where folks made an event out of seeing them back-to-back in the same day. Beyond that, Barbie and Oppenheimer both benefitted from the fact that they feel like products of an era that gradually faded during the 2000s as superhero movies took center stage. In their own ways, the two movies lay their cards on the table in terms of what they're doing, and were both marketed extremely well. Greta Gerwig and Christopher Nolan both made their respective movies feel like cinematic experiences in that it's very clear a lot of effort went into these productions and characters feel as intentionally real (or unreal) as possible.
It'd be rude to say some of the summer season's duds suffered from coasting in some way or another, but it wouldn't be entirely wrong. The Flash's issues are numerous, but it was dragged down by the fact that everyone knew it was a stepping stone to something theoretically more exciting in a handful of years. Mission: Impossible Dead Reckoning has been kneecapped in part by the fact that it blatantly calls itself half a movie, and literally concludes with a title card saying "END PART ONE" before rolling to credits. And for all the bombast and promise its trailers initially had, so much of Fast X was just marking time until Fast XI (presumably) brings the main series to a close in 2025. Seeing people do wild stunts and defy the laws of physics isn't entirely doing it anymore, especially if the actual conclusion is being kicked down the can. The term "half a movie" has been thrown around derogatorily in recent weeks, and it speaks to audiences are realizing (and become irritated by) studios whose big films are basically wasting their time.
That same logic applies over in animation. Spider-Man: Across the Spider-Verse has also been deemed by many as half a movie, but it managed to get away with it by making audiences forget that it initially was labeled "Part One" before its sequel's title was changed to Beyond the Spider-Verse. That movie's been enjoying quite a good summer, but it's not the only animated film to see success. Pixar's Elemental has been gradually building up its box office in the weeks since its mid-June release, when it looked like it was fated to be another recent dud for the studio. Presently, it's earned $395 million worldwide thanks to great word of mouth and the South Korean market falling in love with it. But it only got to that point once Disney refocused its advertising on the movie's strengths and its immigrant story as it connects to director Peter Sohn. Even if its comeback is stopped by the incoming release of Ninja Turtles: Mutant Mayhem, that Elemental was able to get this far feels like something that may never happen again for another couple of years.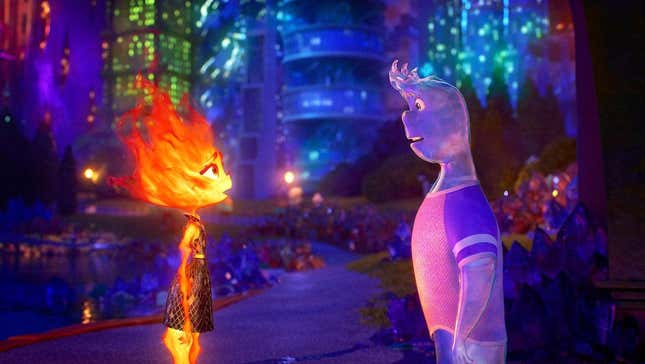 As so many people have said online in recent weeks, movies are definitely back. And the reason they are back is because they're movies first and foremost and anything else—like say, being the first part of a larger franchise—is secondary, if those plans even exist at all. The takeaway for studios should be to make movies that have broad appeal, but also feel authored by their specific director and is relevant in the immediate context rather than years later. Maybe that's something they'll internalize once they're done trying to stiff their workers on residuals and general human decency.
---
Want more io9 news? Check out when to expect the latest Marvel, Star Wars, and Star Trek releases, what's next for the DC Universe on film and TV, and everything you need to know about the future of Doctor Who.