Path of Exile 2 will not be released this year in any form. The plan, as it stands, is for a closed beta test to begin 7th June 2024.
Developer Grinding Gear Games revealed this to me and a group of press during a briefing ahead of ExileCon in New Zealand this weekend.
The silence around Path of Exile 2 has been almost total since it was announced in 2019. We've seen two chunks of gameplay and that's it. The reason for this silence is because the game has changed significantly since then. Originally, it was going to be an extension of Path of Exile 1 and share content with it, but now, Path of Exile 2 is a completely separate game.
Path of Exile 1 will continue to exist and the two games will share an in-game shop and cosmetics, meaning all of your cosmetics will be usable in both games. Otherwise, though, content and characters will not carry across.
I'll explain more in an adjoining preview and interview, but for now, I want to focus on what the hold up has been. There was, after all, a large chunk of the community hoping for a release this year and, with it, a showdown with Diablo 4. What has taken so long?
"It's a lot of things," game director Jonathan Rogers told me in a one-on-one interview. "I more than anyone was hoping for a 2023 beta date as well. We honestly were extremely naive to think that we were going to hit the dates that we previously had.
"The level of quality that we tried to deliver here is just significantly higher than we've ever done before. I guess you always get this thing with what you might call the second system syndrome, where, when you are making a second thing, you want to learn from every single mistake you've ever made from the past, or make it perfect. And so I suspect that we've just been a victim of that.
"There's so much [talk] in the studio of like, 'Okay, we're gonna have a boss in every single area and they're all gonna be awesome – they're all gonna be at boss-tier from POE1' – that sort of level of scope creep. And I guess maybe we're a little bit keen to say yes to all that stuff. And it just ended up getting insanely huge.
"But we're taming it now and things are getting under control, and we know where we are. So I think we're definitely going to hit this date in 2024."
As to how long the beta-testing period will run for when it begins next summer, the plan is for it to be extensive. "It will last months, for sure," said Rogers.
"And in terms of what it will be: it will be the game, the whole game. It's not just going to be 'oh here's the first act' or anything like that – it's going to be the game.
"The beta will be the last chance we have to fix any remaining balance mistakes," he added. "Action-RPG communities are pretty serious business when it comes to balance changes once the game is released – you have to be really careful about that stuff. So we want to have a pretty significant beta to make sure that we're not going to screw any of this stuff up."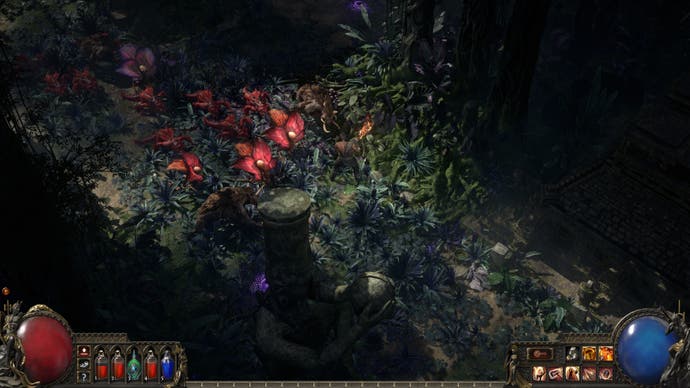 The match-up between Diablo 4 and Path of Exile 2 has been talked up ever since POE2 was announced. For its part, Blizzard's game has roared out of the gates to record-breaking success, becoming the studio's fastest selling game ever – no small feat given some of the games it has.
But it was an assumption on the community's part that Grinding Gear Games would try to release at the same time, co-founder Chris Wilson chimed in to say. The negative side-effect is that now, any release date after Diablo 4 will seem too late, "which is an unfortunate coincidence for us because our plan is just make the game as good as we can – we're in no rush to release it."
I wonder, though, if the proximity to Diablo 4 – and the colossal marketing machine surrounding it – has had some kind of impact on Path of Exile 2's development and release.
"No, it didn't," said Jonathan Rogers. "It would have been nice if we could have gone head to head with them. Like, that could have been fun, I would have enjoyed that. But you know, whatever. We shouldn't be letting them dictate anything about our schedule or anything like that.
"Ultimately, their game ended up being quite different than ours. I guess a lot of people probably wouldn't see it that way but from my perspective, at least, it feels like they ended up in quite a different place."
For what it's worth, from the half-hour of Path of Exile 2 gameplay I saw, I agree. Both games come from the same kind of place, but Path of Exile 2 leans towards a Soulslike way of challenging the player, with more positioning and active, leant-forward kind of play, whereas Diablo 4 focuses more on gear and numbers and – at least from what I've experienced so far – is easier to mentally switch off in and play.
I have a fuller preview and interview piece to share as soon as I can write it. Meanwhile, ExileCon takes place this weekend, in Grinding Gear Games' homeland of New Zealand, and there'll be a flurry of Path of Exile 1 and 2 information coming from it.

To see this content please enable targeting cookies.