The scene at 33rd and 10th was anticipatory; everyone was ready for this. Earlier this week, in "the canyon" between the HBO offices and Amazon headquarters in New York City's Hell's Kitchen, a massive group of marchers picketed for nearly four hours in support of the Writers Guild of America. io9 was there talking to union members on the front lines.
A Transformer Is Headed to the Moon
The WGA is currently involved in negotiations with the AMPTP—the Alliance of Motion Picture and Television Producers, whose members include streamers like Netflix and Apple TV+, as well as traditional studios like Warner Bros. and Disney. The WGA has been on strike for two weeks as the AMPTP has failed to produce good faith negotiations.
And on Wednesday, May 10, the crowd in NYC was a show of union solidarity. Not only was the WGA out in full force, members of SAG-AFTRA, IATSE, United Scenic Artists (Local USA 829), and others joined the picket line. It felt more like a rally; everyone was excited, united, eager to grab signs and start marching. Scabby—the infected Rat often seen at union actions—was in attendance, half a hundred dollar bill in his mouth. (I tried to ask about where the other half was. Nobody knew. He's always been like that, apparently.) And pretty quickly, celebrities arrived: Lena Dunham was there early, Adam Scott, Bob Odenkirk, and Mandy Patinkin showed up soon after. Michael Emerson, David Cross, and John Leguizamo were spotted as well. They weren't there to pose or do interviews (although they graciously did both); they were there to march with the WGA. The Saturday Night Live band showed up within the first hour and was there for nearly three hours, playing almost the entire time.
I spoke with people in the picket lines about the WGA strike means and why they were marching—and tossed in a few sci-fi questions too. Lisa Takeuchi Cullen, a writer and producer for Universal, said that she was striking "for fair pay and career longevity." She also said that it was important to send this message to studios now because "writers are in an existential crisis." She explained that there are members who are unable to make rent. "Television and screenwriting used to be a middle-class income for people, but not anymore. We need to fix that. We are creating products that make billions in revenues for our employers. And all we're asking for is a fair slice of the pie." (Cullen said that she would "kick ass" as a Ghostbuster.)
Adam Scott, who currently plays the lead character in Severance, an Apple+ TV show about a company that splits its employees' minds into two personalities–work and home—spoke to me about how he stands "100% behind the WGA." After a furious bout of honks from traffic, he continued. "I certainly would not be here by myself without writers. There are many writers that I've been lucky enough to know in my life. Mike Schur [Parks and Recreation, The Good Place], John Enbom [Party Down], Adam McKay [Step Brothers], Dan Erickson [Severance], Mark Friedman [Severance]; these people have changed my life and do such incredible work. So the absolute least I could do was be out here to support them and everyone else in the WGA."
Greg Iwinski, an Emmy-winning writer and a strike captain for the WGA who recently wrote an episode of Star Wars: Young Jedi Adventures, explained that writers had no choice but to strike. "We worked up until the last night [of our contract] to try to get a deal. But when there was no time left, the options were to take their bad offer or to strike." When asked what this strike means for the future of screenwriting, Iwinski had a wider view of the implications of the labor action. "This strike means something more than just the future of writing for television. It means something for directing for television, of acting for television, for everyone who is taking on a giant tech corporation that is slashing their wages and raising their hours. That fight is the same, whether it's us or an Amazon warehouse or a Starbucks… [Companies] care about a Wall Street number going up. And that is not going to work for us." (Iwiski prefers Star Wars to Star Trek, and he said that his lightsaber would probably be blue.)
Another SAG-AFTRA member, who wished to remain anonymous, said that they were marching "in solidarity with the writers. If there's nothing on the page, there's nothing on the screen. I think they're asking for a fair contract, and we need to support them." A writer who is not in the guild, but hopes to be someday, said that this strike is "the last stand for preserving humanity in the industry. The fact that [the AMPTP] were so unwilling to even entertain a conversation about AI is indicative of what shit they have planned. And it's truly now or never."
Better Call Saul's Bob Odenkirk, a member of SAG-AFTRA, WGA, DGA, and a few other industry guilds, also took some time to speak to me. "The Writers Guild was my first union, and also my first strike. I was a writer on Saturday Night Live in 1987, and I was a part of the strike in 1988. This is my third strike." He was emphatic about the need to protect writing as a career. "The industry just does this all the time. They take whatever the situation is and they work every angle to diminish the work being done. You know, it's what the machine of a corporation is built to do. It's built to cut every corner and find every loophole and every way around. And so every couple of years, or every decade, we have to stop and go, 'That's enough.'" (When asked for a favorite sci-fi or fantasy film, Odenkirk said he loved Everything Everywhere All at Once. "It was a beautiful mix of sci-fi excitement and ideas and human behavior. It was bold and wonderful, and that's my favorite kind of sci-fi.")
Peter Ackerman, who was most recently working on the second season of The Diplomat for Netflix, said, "I'm out here because I'm getting paid less than I was five years ago, and because I'm working for fewer weeks in the year. My contract was only guaranteed for 12 weeks, I can't make a living on 12 weeks of work. And I feel like the direction it's going. No one's going to be able to make a living." (He said that he'd be too much of a scaredy cat to become a Ghostbuster.)
Michael Emerson—currently starring on the Paramount+ horror drama Evil, which was shut down after union workers refused to cross a WGA picket line—was out in support of the strike. "I think it's unfair when the seminal artists of the entertainment industry don't have as good a deal as the people in the front office. I think it's upside down right now." Emerson said he believes that writers—and in fact the entire industry—are at a turning point. "We're on a technological and cultural cusp right now. And things could go the wrong way in a hurry, technologically, in terms of how things get written or recorded or performed. I think we have we have to kind of dig in now and keep human beings working in our industry."
Sean O'Connor, a writer on Hulu's Solar Opposites and a member of WGA West, said that he's on the picket line because "I think it all starts with writing. It's just kind of the fundamental part of entertainment. It all starts on the page. People writing in the 1990s, they all own homes. I've been a member for 12 years and I don't feel any closer than I felt like in 2011. It feels like it's becoming a gig." He also mentioned how disappointing it is that AMPTP studios "are trying to make actual science fiction come to fruition with AI technology and ignoring all of [the WGA's] worries about it. It's devastating. All great science fiction comes from the human mind. It can't come from AI."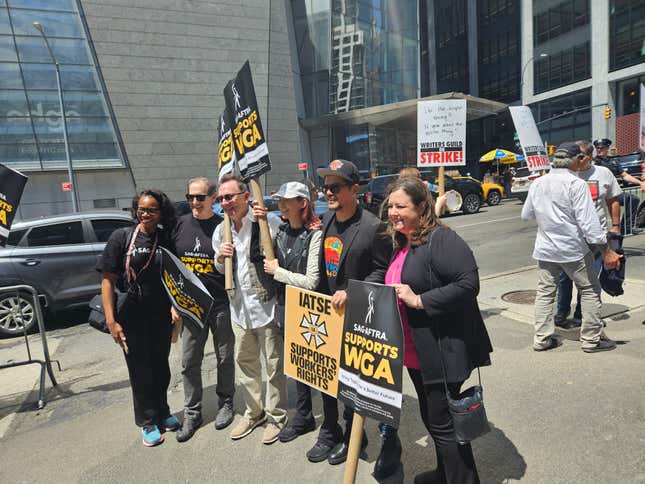 On my way out of the picket line, I ran into John Leguizamo. He recently appeared on Prime Video's The Power, a show that I very much enjoyed. He's part of the WGA, SAG, and DGA. "I'm here to support my writers because they're storytellers. That's where everything begins. That's the origin of every project. Everything that happens in Hollywood and streaming wouldn't happen if it wasn't for the writers. And to not give them their fair due is obscene." Leguizamo added that this is a defining moment for writers because the industry "is trying to figure out a way to use as few writers as possible, pay them and the least amount, and to basically take away their power. And this is unacceptable." (As for the genre question: "I think the best sci-fi always holds a mirror to society, especially society as of the time you're living in.")
Early on during the march a man with silver hair and a blue suit was out on a nearby sundeck, looking down at the picket line. He stayed there for about 15 minutes. I saw him take pictures. I wonder what he thought of us? I wonder if he cared? I know, at the very least, that he heard us. Maybe he matters. But probably not. He's just one man. The WGA is a whole union.
---
Want more io9 news? Check out when to expect the latest Marvel, Star Wars, and Star Trek releases, what's next for the DC Universe on film and TV, and everything you need to know about the future of Doctor Who.